A simple, cost-effective solution that makes clear-cut shipping labels, receipt labels, and more
Save your indoor label costs with Direct Thermal Labeling from Pro-Motion Industries
Direct thermal labels do not require any ink, toner, or transfer ribbon. They only need a special heat-activated layer to print the image onto the label. When exposed to high heat or strong sunlight, direct thermal labels turn black. This makes them a popular, cost-effective labeling solution for products that are only for indoor use such as shipping labels, receipts, name tags , events tickets, and other items that do not require extra durability.
Tell our seasoned labeling specialists about your products and we'll handle the rest, ensuring professional, precise, and wrinkle-free direct thermal labeling that meets your requirements, timeline, and budget.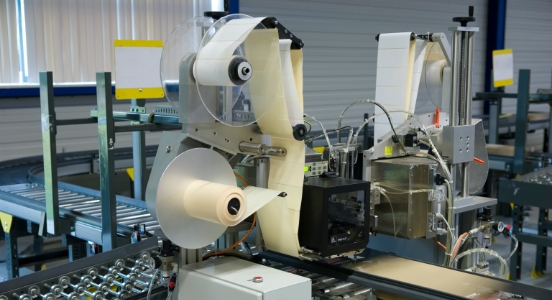 Why do leading businesses choose Direct Thermal Labeling from Pro-Motion Industries?
Precision and high durability
Regardless of the size or shape of your products, we guarantee extreme precision and proper label application that give your products a higher professional appeal.
Two decades of experience
Our complete suite of top-of-the-line machines and other labeling technologies enable us to apply your labels faster and more accurately.
A wide-range of labeling machinery
Our multitude of top-of-the-line machines mean we can apply your labels fast and properly, using the right labeling technology.
Transparency, efficiency, and value for money
Our goal is to help our clients put eye-catching products on market shelves within their timeline and budget, with zero bill surprises and hassles.