World-class decorating solutions
Pro-motion is proud to be part of exhibitors for the coming LUXE PACK New York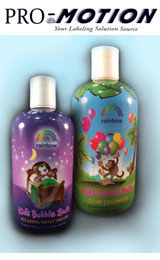 We Now Offer Contract Shrink Sleeve Applications!
The wrap around coverage of shrink sleeving provides not only a massive canvas for graphics and content, but also draws the viewer's eye. Shrink sleeves can fit seamlessly to almost any shape, whether it's tapered bottles, Boston rounds, or other unique types of containers, giving you endless options for your product's packaging.
Pro-Motion also offers Contract Labeling Services as well as multiple lines of Pressure Sensitive Labeling Equipment.
From major launches to sales samples and concept trials for your creative and marketing departments, we have the experience and creativity to make it happen. Simply stated, we get your job done!